Ship Security Alert System FMT-SSAS-V1
Ship Security Alert System FMT-SSAS-V1
FMT-SSAS-V1 is a Satellite ISatData Pro Terminal, programmed with Marine Asset Tracking and Ship Security Alert System, enables companies to track and monitor their vessels and boats, giving them increased visibility of business operations, enhanced efficiency, and greater safety and security for their vessels and boats, while lowering operational costs.
Secure HTTP encryption and password-protected identification ensure that sensitive data remains safe.
Key Features
FMT-SSAS-V1 is second to none in prime features
Tracker + SSAS Function
Inmarsat Type Approve, CE Mark, FCC, RoHS, Anatel; Perfect for marine environment
Global Coverage of Inmarsat
Quick Activation
User Friendly Control Panel
Prepaid Airtime System – FMT Units
Airtime usage report
Distance and Bearing from 5 nearest Ports
Two Years Tracking History
Global Weather and Forecasting
Astronomical Calculations e.g. Sun Rise, Sun Set, Dawn, Solar Noon, Dusk, Day Light Period, Night Period
V-Mail Support
Powered by External 24V DC – Suitable for Vessels having no Power Failure
Low Power Consumption – Rx: 45mA, with GPS: 60mA; Tx: 0.75A; Sleep: 0.1 mA
Key Benefits
ULTIMATE Choice of Ship Security Alert System (SSAS) for vessels less than 500 GRT
Inbuilt Backup Power for 7 ~ 360 days depending upon Reporting
Prepaid Billing, No Hidden Cost;
Ultimate Marine Asset Tracking powered by Track by Distance Application for Low Operational Cost;
Type Approved SSAS Hardware;
Satellite (Inmarsat, Iridium etc.) Email Support Powered by V-Mail.
Sample Position Report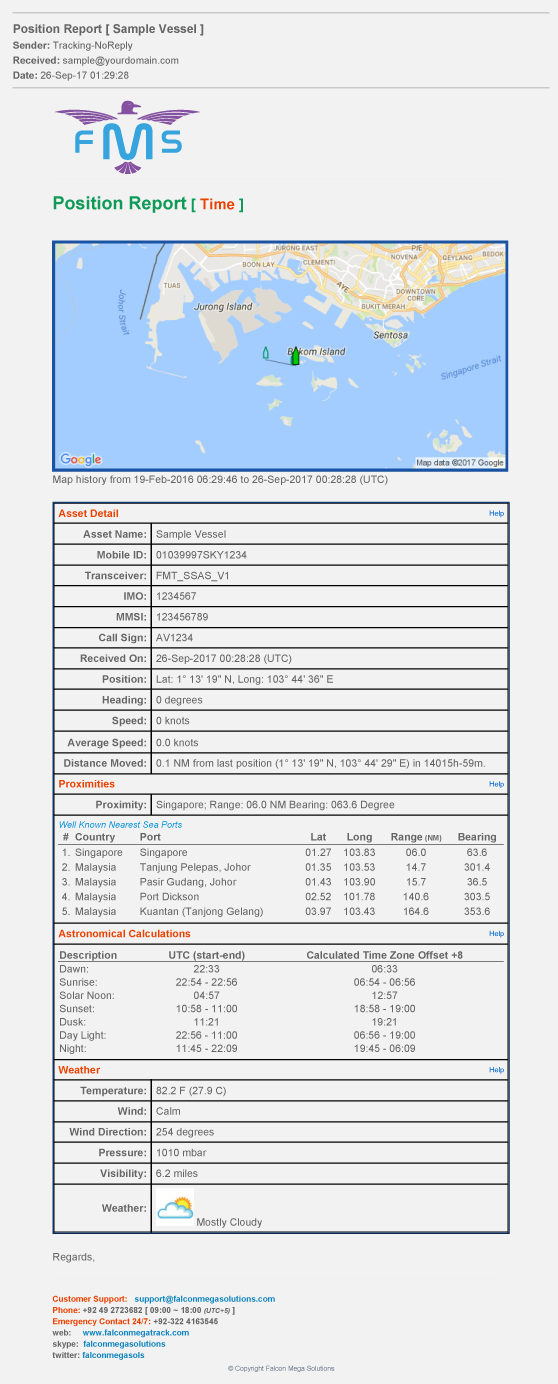 FMT-SSAS-V1 Support V-Mail to Send and Receive Text Email Via Inmarsat Satellite.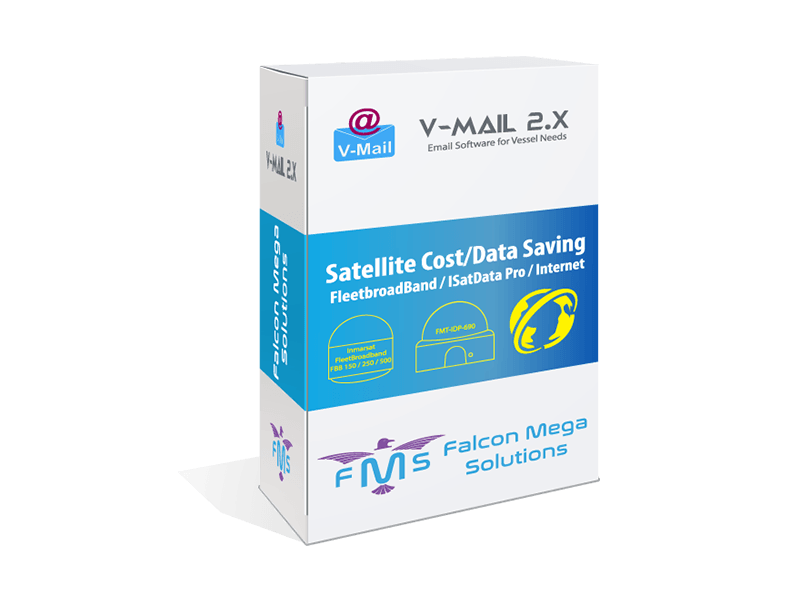 Scope of Supply
Main Unit (FMT-ST6100)
Quick Mounting Bracket
Activation Buttons
Power Pack – FMT-PP
Set of Cables
User/Installation Manual
V-Mail Software (to send/received email via Satellite – Inmarsat, Iridium etc.)
Option
Units-1500 – Activation (Required) 
Units-1500 – 1 Year Service – 2 APR/day (1460 Unit) + 40 Polls (40 Units) or
Units-2250 – 1 Year Service – 3 APR/day (2190 Unit) + 60 Polls (60 Units) or
Units-3000 – 1 Year Service – 4 APR/day (2920 Unit) + 80 Polls (80 Units) or
Units-3600 – 1 Year Subscription (300 APR / Month) 
FMT-COM Port DB9 Female Cable (Required)
USB to Serial RS-232 Converter (Required, if computer / laptop does not have serial com port)