Overview
The all-new Thuraya MarineStar blends robust design with unprecedented functionality and unmatched levels of value to provide flawless voice communications with tracking and monitoring over Thuraya's satellite network, covering the world's busiest sea routes and fishing hot spots.
Thuraya MarineStar is competitively priced. Users have the flexibility to select from a wide range of plans and bundles tailored for the application of their choice, which could be stand-alone voice, stand-alone tracking and monitoring – with or without an application, or a combination of both. There are no long-term contracts, no hidden fees and no early termination fees.
Key Features
Fish Catch Reporting
Tracking based on area, Time, Distance and Speed
Geo-fencing
Radio silence
SOS Button
Power indicator
Tracking Application
Product Applications
Fisheries
In order to curb unreported and unregulated fishing, national governments are tracking and monitoring small and medium-sized boats. Thuraya MarineStar's catch reporting, tracking and monitoring capabilities help users meet regulatory requirements. Additionally, the terminal is able to communicate with vessels, whenever alarm is raised.
Crew welfare
Crew on small vessels require basic connectivity. With the MarineStar onboard, they are always within reach – even on high seas in turbulent conditions. The terminal facilitates crew calling and SOS alerts, whenever required. Thuraya creates connected communities of seafarers with its local numbering plan implemented through roaming partnerships with GSM operators worldwide.
Condition based monitoring (user/server-defined)
The MarineStar enables users to perform condition based or on-board monitoring for predictive and preventive maintenance according to equipment's status. Sensory data is transmitted from third-party devices through the terminal for further analyses. This translates to better planning and upkeep by reducing out-of-service time.
Subscription Plans
Prepaid Plan (Starts form 0.84 $ per Minute)
Postpaid (Starts form 0.61 $ per Minute)
Contact Us for Detailed Data Plans
Satellite Coverage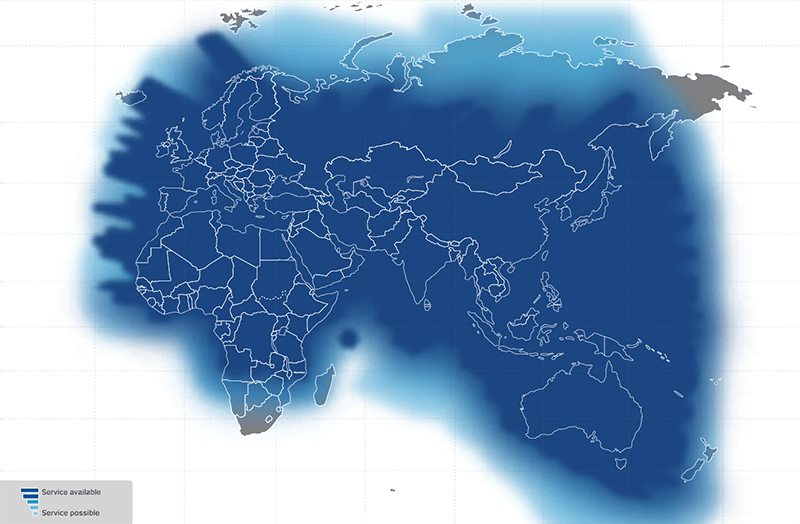 Scope of Supply
Base Terminal
Active Antenna
Antenna Mounting Kit
Power Cable
GPS RF Cable (25 meters with N-type Male connectors)
SAT RF Cable (25 meters with TNC Male connectors)
Installation Material
User / Installation Manual
Options
Thuraya Prepaid or Post Paid SIM Card
Satellite Airtime Plans (Prepaid or Postpaid)
V-Mail Software (to send/received email via Satellite – Inmarsat, Iridium etc.); Read More About V-Mail
Size and Weight
Weight: 6.5 Kg
Size: 31 x 25 x 28 cm
  1. What is the MarineStar?
The MarineStar is an affordable and robust voice satellite terminal with tracking and monitoring capabilities. The terminal is easy-to-install and user-friendly enabling satellite voice calls to landlines, mobile phones and other satellite phones through the Thuraya satellite network.
2. What is the composition of the MarineStar?
It consists of a Below Deck Unit (BDU) which can be installed anywhere inside the ship and a above decks unit (ADU) connected together by a single RF cables.
3. What are the power requirements?
The Thuraya MarineStar (including to the Terminal and the Active Antenna) standby power is only less than 10 W, and the standard operation average power consumption is only 16 W. When low signal strength, burst power may beyond 20 W. For the steady operation, the input voltage for MarineStar System needs a 36 W power supply (may be 12 V DC@3 A or 24 V DC@1.5 A). It is recommended to use a 24 V DC power line, if available on the ship.
In case of unavailability of a 12 V or 24 V DC power line on the ship, on external AC/DC power supply (110/220 V AC to 24 V DC @ Min 1.5 A) can be used, please contact the vendor when you need it.
4. What is the Thuraya coverage like?
The Thuraya coverage footprint covers more than two-thirds of the globe across 160 countries in Asia, Africa, Australia, Europe and Middle East. It also covers a vast majority of the world's shipping lanes.
5. What are the types of services available on the MarineStar?
 Voice, SMS, Email GmPRS (60 Kbps Down / 15 Kbps Up), Tracking.
6. Who are the target subscribers for MarineStar?
Vessel owners, operators or charterers who need their vessels to be connected through Voice, SMS and Tracking Service. The email service is available through GmPRS, good enough for medium use. For high use it is highly recommended to use Thuraya Orion IP for Data service along with MarineStar for Voice and SMS.
MarineStar can be used from merchant maritime, government organizations, fishing fleets and leisure boats.
7. Do I have to install email software on my PC before connecting the MarineStar?
We shall provide V-Mail Software, and assist in installation and configuration of the software.
8. How can I get Thuraya MarineStar installed onboard my vessel?
Please email us with follwoing information;
Vessel Name & Type;
Vessel Location, for installation;
Selected Data Plan
Contact Us – Once we receive the email, we shall send you cost of equipment, installation charges, and Airtime Subscription cost.